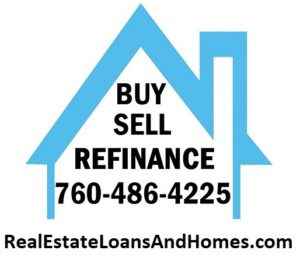 Sheryl Arndt, Broker
Real Estate Services
Sheryl Arndt, Broker
I provide real estate services in the Southern California market including the Los Angeles, Inland Empire and High Desert and surrounding areas. We also have a network of associates throughout the rest of the state of California to assist those outside our service areas.
If you are an agent with a client in our service area we do pay referral fees. If you want pre-approved clients outside of our areas we refer our clients for a referral fee too.
We have a home office in Silver Lakes in Helendale and are available 7 days a week by appointment only. We service the High Desert cities, Helendale, Apple Valley, Adelanto, Victorvile, Hesperia, Pinon Hills, Oak Hills, Phelan, Lucerne Valley, Barstow and many others within one hour drive.
Call 760-486-4225 today!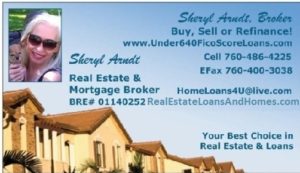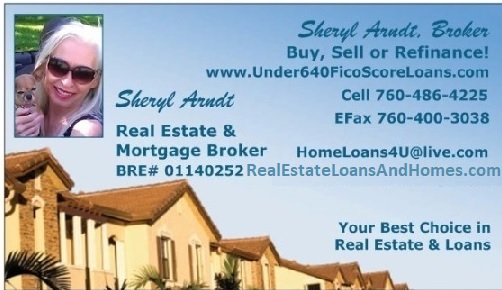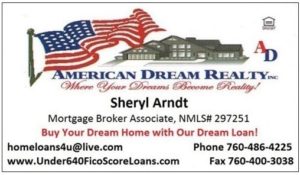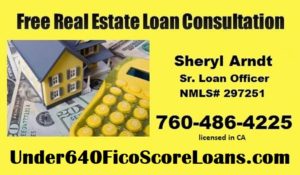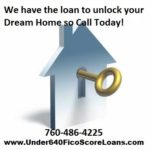 Mortgage / Sr. Loan Officer
Loan Programs
As a mortgage broker, we are approved with 26+ wholesale banks which gives us the widest variety of loan programs to better serve our clients. We offer many programs starting at a 500 mid score and on up.
We offer credit repair advice at no cost for our clients. Our credit repair can get results directly with the bureaus in 3-4 days in most cases to qualify for programs, rates and terms as necessary.
Ask about down payment assistance programs which enable you to buy a home with little out of pocket expenses in California. You will need a minimum 620 fico score to qualify for a down payment assistance program home loan.
Contact us for your mortgage or real estate services in CA, California only.
FHA, VA, CalVet, USDA, Conventional, Jumbo, Portfolio and more…