REFINANCE – at wholesale low interest rates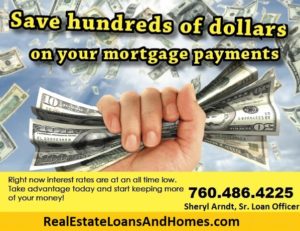 If you would like a "cash out" refinance, contact us. While a cash out refinance will all be determined by your credit profile. Also your debt to income ratios, fico scores, LTV, loan program choice and rate and terms. A cash out refinance requires an appraisal done. Call to discuss your options to make an informed decision today.
You may even have enough equity to refinance to a conventional loan with NO Mortgage insurance.
Call office 760-983-4549 or cell 760-486-4225